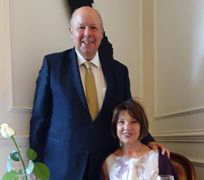 Gerhard & Hiltrud Malle
About their 2017 Lower Volga and Volga Dream Platinum
cruises & tours
Volga Dream and it's people is a must do experience
We would like to share the comments regarding our experiences on board of Ms Volga Dream during three weeks of 2017, i.e. both trips starting in Astrakhan (alone), ending together (with my wife) finally in St. Petersburg. We will never miss any of these days in our whole life, perfectly and professionally organized and carried out, incredible places, and allow us to highlight, your main assets are your people, with real jewels.
Staff and Service
Travelling more than half of a year all over the world, we enjoyed a lot of cruises on premium ships, but your friendly and emphatic attitude is by far outstanding.
Daria at the reception, Dean the Maître, Nina the Doctor, who I had to rely on due to an early accident. Olga the Hotel Manager, the right person on the right job position, and she has a style. Maria the Cruise Director, always available, charming and most helpful. The route Information got excellent during the cruise. Andrey as the Chef de Cuisine, Nikolay the man for the morning eggs, all the «girls» in the restaurant — they are doing a very good job. With your Captain, we felt always safe and secure, something, which is equally important. 
We enjoyed a lot of cruises on premium ships, but your friendly and emphatic attitude is by far outstanding
Ship Condition
Not a big issue that the ship is already older, the Ms Volga Dream is kept extremely clean and well maintained.
On Board Activity
Board activities nice and varied – there's something for everyone. And some really beautiful ideas. Both lecturers were very informative and very outspoken, couldn't be better! Musician gave two concerts, which were highly appreciated. A certain kind of class!
Shore Excursions
Shore excursions very compact but excellent planned. We especially liked the choirs. The time factor was for us fine, guides got better from South to North. We would recommend to hand out the questionnaire already on day one to remember each stop better and so an immediate evaluation. A big compliment to Olga, the Russian Guide for Germans on board for the whole three weeks.
Interesting to notice, that in the first part (Lower Volga) there were more individualists on board while during the second part (Moscow to St. Petersburg) — more tourist oriented, in our opinion.
Finally, nothing to argue regarding the value for money and recommendations to friends is for sure!!!! Volga Dream and it's people is a must do experience.
We wish you all the best for the future!