Why Volga Dream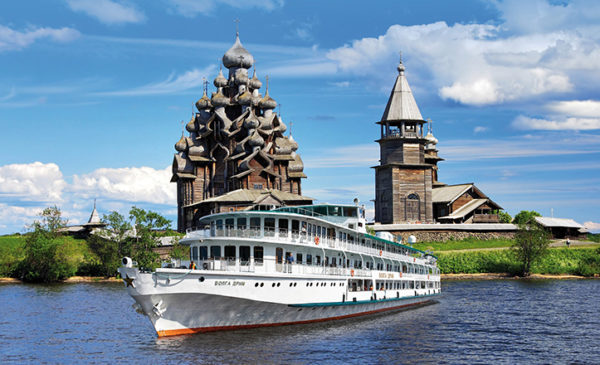 Family Owned & Operated
Family Owned & Operated
MS Volga Dream is Russia's only family-owned river cruise ship. She can
accommodate up to 100 guests, far fewer than most other cruise ships on the river making for a uniquely friendly and intimate atmosphere aboard.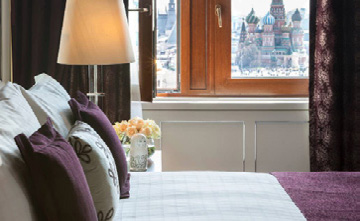 Five-Star Central Hotels
Five-Star Central Hotels
We at Volga Dream are completely convinced that, our guests should stay in great 5-star hotels in Moscow and St. Petersburg within comfortable walking distance of all the major attractions, theaters and restaurants, rather than having to waste time in traffic.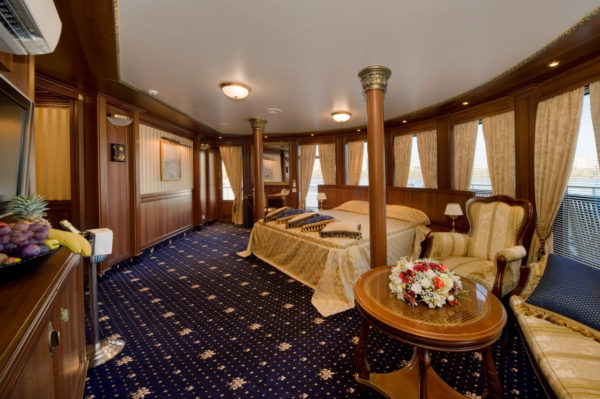 Luxurious Accommodation
Luxurious Accommodation
The MS Volga Dream is the most intimate and elegant 5-star cruise vessel in Russia. She boasts 56 cabins, all river facing, ranging from comfortable Standard Cabins to spacious Junior Suites and the luxurious forward facing Owner's Suite.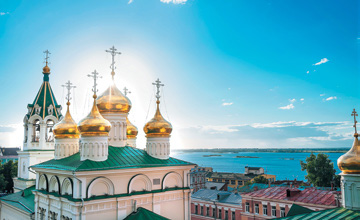 Russian Cultural Experience
Russian Cultural Experience
Explore Russia's past with the help of professional tour guides. Our on-board program includes fascinating talks on Russian history and politics, Russian language lessons, a festival of Russian cuisine (including vodka tasting!), and much more.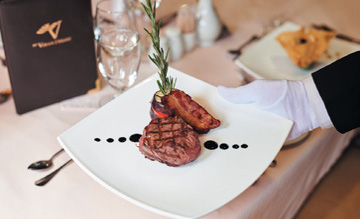 Gourmet Dining
Gourmet Dining
Our on board restaurant serves international cuisine to the highest standard, all freshly made by our Cordon Bleu Chef. For Russian Dining night, he prepares a selection of traditional Russian dishes: Chicken Kiev, Kulebyaka and Borsch.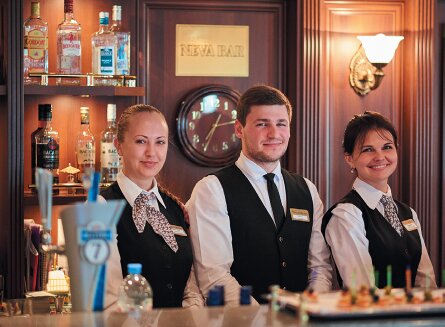 Tailored Service
Tailored Service
All our service crew members are native Russians who are fluent in English and handpicked by the Owner. Proudly, the Volga Dream is famous for her hard working and very hospitable personnel who take care of every aspect of your life aboard.
Download Our Brochure
It's never been easier to plan your next holiday in Russia. Download our free brochure to learn more about authentic Russian river cruises.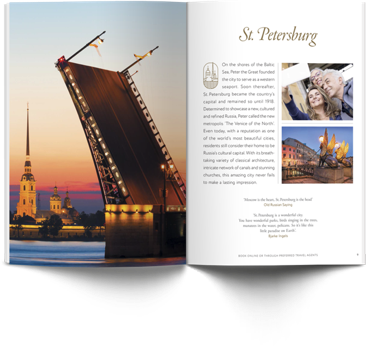 Escape the hassle and bustle and add a satisfyingly
informative element to your trip and bring together
a colorful mosaic of people, history, traditions, 
religion, music and art. These are the many strands
that time has woven into what is known today as Russia.
download brochure
What people are saying
We enjoyed every single minute of the holiday. The hotels were situated centrally we could walk around easily being able to walk into the square where the Hermitage was just around the corner from hotel was amazing. The boat was a lovely experience. The staff were very attentive. Food was excellent. Trips from the boat very interesting. Good guides The Kremlin was so interesting.
Jacqueline Lapwood
Great Britain
My wife and I and four friends wanted to do a boat trip between Moscow and St Petersburg and didn't want one of the fleets of ships with 200 passengers. And in addition to size we found a number of negative TripAdvisor reviews on many of those larger ships. We found the Volga Dream which takes only 100 passengers and which is privately owned by a Russian family. It could not have been better.
Rick Dowden
United States
I am fond of traveling by water and at first I didn't expect anything extraordinary in my trip by the river Volga. But I was mistaken, this river cruise was an incredible experience I had never had before. Indeed, the program surprised me on the board and after the disembarking: we had an excellently planned tour around the historic places of the cities, interesting video presentations on the most significant moments in the history of old Russia.
Alexander Powell
United States
The trip to Russia with Volga Dream was a success across the board. Very good hotels, competent guides, nice rides. The stay on the ship was extremely pleasant. The staff were very obliging and friendly. The meals on board were excellent. The lectures and other activities on board very pleasant and instructive. I would recommend Volga Dream to anyone who wants to visit Russia.
Monique Verbrugge
Belgium
Never having been on a cruise, we were unsure of what we would experience. We were very pleasantly surprised, the staff were excellent, food was delicious, entertainment was enjoyable, lectures opened our eyes to the history of Russia and in general we had a wonderful time. Our fellow passengers also made our trip one with wonderful memories.
Peter & Annemieke English
Australia
I was surprised at the quality and variety of the food (especially the vegetables and vegetarian options). Complements to the chef for ingenuity! The best part of spending time on the Volga Dream was getting to meet the crew. They are such a gracious and talented group of people who really went out of their way to make sure everyone had a wonderful journey.
Philippa Calnan
United States
Sign Up for Our Newsletter
Sign up for our newsletter and keep up to date with the latest offers,
savings and news at Volga Dream